Spinal Decompression DRX 9000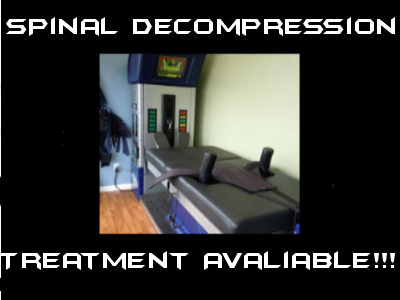 The DRX 9000 is a state-of-the-art piece of technology that provides relief of symptoms and greatly improves moderate-severe chronic back pain. The process has been proven to relieve pain by enlarging intervertebral space between the vertebre which in turn reduces herniation, strengthens outer ligaments, help move bulging or herniated discs back into place, and reversing the effects of compression of the spine by application of negative pressure.
An upper chest harness/shoulder support protrudes from the table and is used to help distribute the applied forces evenly. Once the waist harness and the upper chest harness are secured, the patient is lowered into a horizontal position, laying flat on the table now at this point.
Now the Waist Harness has straps that hang that have a connecting hook on it which will be hooked up to the DRX 9000 Spinal Decompression Machine. After the calculation of weight, height and number of treatments, the amount of negative pressure in lbs. will be chosen and used for your treatment.
When the Spinal Decompression session is in progress Dr. Bird will be informing you about the exact processes that are happening in your spine and how this is the best, non-surgical, way to heal chronic disc problems. The DRX 9000 helps to mobilize troubled disc segment without introducing further damage to the spine or cartilage. It simply allows it to slide back into place after enough room has been made between the vertebre.
Some of the most commonly treated problems by the DRX 9000 are:
Chronic Low Back Pain due to bulging or herniated discs
Chronic Mid Back Pain due to bulging or herniated discs
Chronic High Back Pain due to bulging or herniated discs
Sciatica (Leg and Foot Pain and Numbness)
Post-Surgical Patients with failed back syndrome
Cervical (Neck) Pain and Symptoms

Some of the Non-Treatable Conditions for the DRX 9000 are:
Spinal Tumors
Vertebral Fractures
Spondyloisthesis
Osteporosis
Pregnancy
Ankylosing spondylitis
Spinal Fusion with Retained Hardware
Spinal Stenosis

The DRX 9000 is the best Non-Surgical Spinal Decompression System that provides primary treatment for the management of pain and disability for patients suffering from incapacitating Low, Mid, High, or Neck pain, chronic disc problems or other injuries.
The best way to have this therapy are in 24 and 36 treatment sessions
For more information on pricing
CALL TODAY FOR MORE INFO AND A FREE, EDUCATIONAL, NO OBLIGATION CONSULTATION!